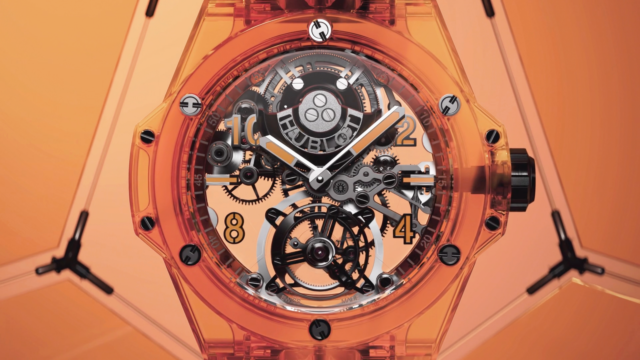 If there's one area where Hublot's own « Art of Fusion » is expressed in all its boldness and radiance, it's definitely that of cutting-edge materials, particularly manufactured sapphire.
Today, Hublot continues to innovate with this extraordinary material by reinterpreting the Big Bang Sapphire Tourbillon in an entirely new orange shade – a world first for a through-tinted sapphire.
In search of the perfect fusion between movement and case, Hublot engineers and chemists have researched and developed a transparent material which reveals the heart of the watch, all while being robust enough to effectively protect the mechanism.This surprising and dynamic colour is a breath of fresh air for haute horlogerie, and is in perfect harmony with Hublot's culture of excellence.
Here, the music helps us embrace this unique mouvement, in all its boldness, precision and radiance.
Music & Sound Design
Pierre Bonnemère